This is the beginning of Awesome Week 2009. What does that mean?
I've decided to document my life in pictures for the next seven days because there are a lot of things I don't slow down for. There are a lot of things I'd like to show you that I've never taken time to capture on film. So here it is:
My life.
This is my drive to work on Monday mornings. That's the city that I love, Nashville.
And a blue truck, about whom my feelings are indifferent.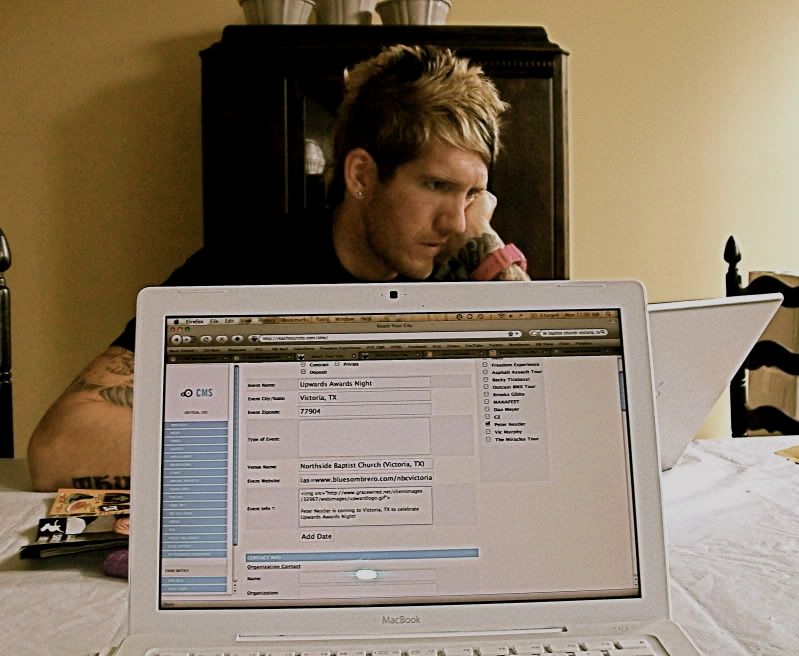 This is where I work. Across from Jacob. It's a pretty legit office, as you can tell. I pretty much spend all day on Facebook, but I made it look like I was working considering there was a camera out. Jacob is actually updating his Myspace, which is a top of the line profile.
This is my boss, Gresham. This is also the second time in almost a year that I've seen him wear shorts. This picture captures our staff heading off to lunch, while Gresham is still diligently working.
This is our new Monday lunch super fave, the Copper Kettle. It's just outside the city and it smells like Thanksgiving at Aunt Sue's house every day. That is a business that takes itself seriously. Plus, it has a pretty stellar view from the deck.
Let me tell you, the blackberry salad will NOT disappoint.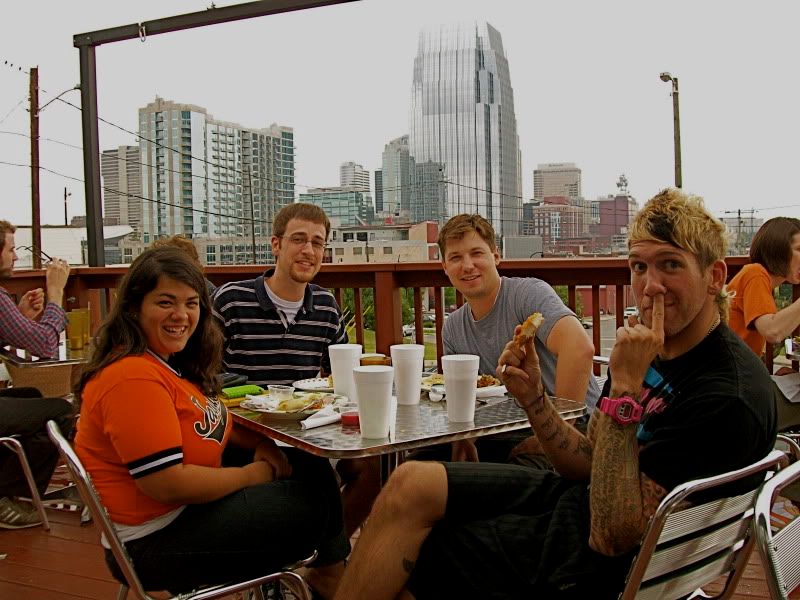 There are no other visual records of who works at our company now. Taking pictures today was a first for these guys, as you can tell.
This evening, Erin & I headed over to Belmont University for Week 6 Opening Celebration.
This is where I came to camp one summer. It was the summer I cut my hair and the summer I first came to Nashville.
Campers headed off to their ministry track groups and Erin & I pretended to be campers too. We got all the way to one of the classrooms before someone realized we weren't your average middle schoolers. For one night, we were part of the Armadas.
We topped off the evening with a trip to a local favorite- Ben & Jerry's, because ice cream is better when someone hands it to you in a paper cup. Half Baked Frozen yogurt is a grocery staple in our household.
We took a walk around the block to discuss life-changing revelations and to try and capture pictures of fireflies. The latter was simply not a possibility. Instead we took pictures of the ridiculous buildings that are hiding all over West End and the Vanderbilt area. Get out of your car every now and then and just walk. It's crazy, what you'll see.
Then we opened the sunroof and took the long way home.
Broadway is where all the action happens. The day wrapped up with us going home and filming an episode of the Erin & MeLissa Show, which will premiere in just a few hours now. We're going to talk about celebrities and I've finally decided that I have to suck it up and start editing everything in Final Cut. And I just taught Erin how to use iMovie. Lame.
I had some pretty good late night chats with some Florida favorites and now I'm headed to bed. Tomorrow I work from home, so we'll see what awesomeness gets captured.
Good night moon.